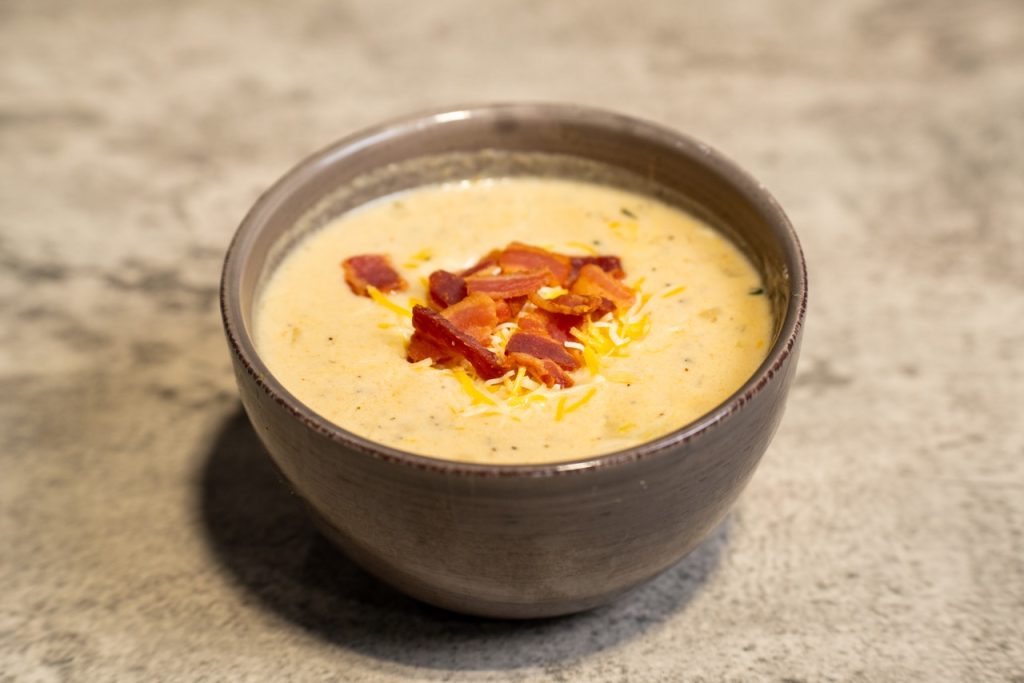 4-5 pieces of bacon
¼ yellow onion, diced
3-4 cloves of minced garlic
¼ cup flour
2 cups whole milk
4 cups chicken stock
3 tbsp Crove Beef Rub
5 sprigs thyme
2.5 Cups russet potatoes, peeled and cut into bite sized pieces
Tapatio hot sauce
1 cup cheese for garnish
Add salt to taste
Chop bacon into small 1-inch pieces. Slowly cook the bacon on low in a large pot to render as much fat as possible. When done remove bacon from the grease and drain on a plate lined with paper towel. Keep the bacon grease in the pot.
While the bacon is slowly cooking, peel and dice your potatoes. You can put the diced potatoes into a bowl of water to keep them from turning brown.
Add diced onion to the bacon grease and cook for a few minutes then add the garlic.
Sprinkle ¼ cup flour over the bacon grease, onion and garlic to create a roux. Then add 2 cups of whole milk and 4 cups chicken stock. Stir continuously over low heat until the clumps have dissolved.
Add 3 tbsp. Crove Beef Rub and 5 sprigs of thyme to the pot.
Add about 2.5 cups of potatoes to the pot, a few dashes of Tapatio hot sauce, and let it all simmer for around 25-30 minutes until the potatoes are tender. Add salt to taste.
Ladle the soup into soup bowls and garnish with bacon and cheese. Additional toppings that would also be delicious- fresh chives and sour cream!
Love this recipe? Share it with your friends!