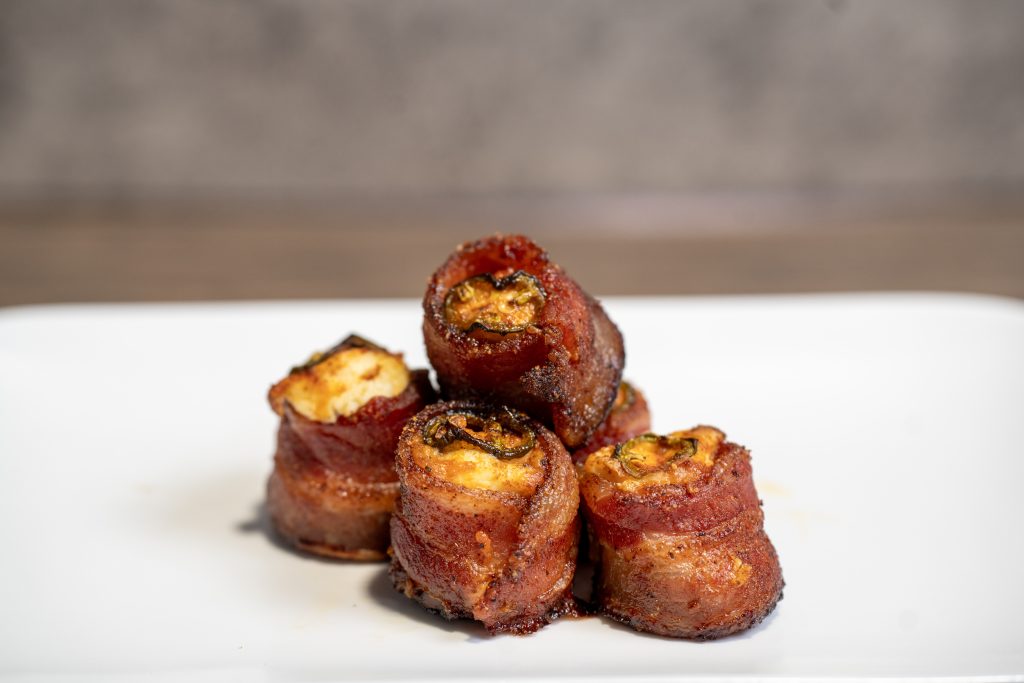 1 package Smoked

Sausage

1 package Bacon

1, 8 oz. block softened Cream Cheese

1 cup Shredded Cheese

 Maple Syrup

 

1 jalapeno

 
• Other supplies: 1 large Ziplock baggie, toothpicks 
Preheat your

oven

to 350 degrees Fahrenheit.

Remove your smoked sausage from the packaging and with a knife slice the smoked sausage into 1/2-inch round slices.

Remove the bacon from packaging and with a knife slice the bacon in half lengthwise.

 

Gather toothpicks, smoked sausage, and bacon. Using one piece of bacon and one piece of sausage, roll the bacon around the outside of the smoked sausage round. Use one toothpick to stick through the outside of the bacon all the way through the sausage and back out the other side. The rim of the bacon should stick up above the sausage creating a "bowl" for the cream cheese mixture to go in. Complete this step until all rounds of smoked sausage have been wrapped in bacon.

In a medium sized bowl, mix one block of softened cream cheese, 1 cup of shredded cheese, and a few shakes of

fajita rub

.

Mix all together

and fill the

pig shot bowl with the cheese mixture.

Slice jalapeños and add to the tops of the pig shots

.

Place

in the oven

for around 50 minutes, or until the bacon is fully cooked.

For the last 10 minutes of cooking, drizzle the tops of the Pig

Shots with maple syrup

or honey

.

Serve and enjoy!

 
Love this recipe? Share it with your friends!