Titans
Tailgate
Tailgate
Tailgate
Tour
January 2, 2022
Written by: Crove Food Co.
      On November 13th we traveled to Nashville, TN for the Tennessee Titans vs. Denver Broncos game. It was our first and only NFL game on the Tailgate Tour. The Tailgate Tour has been college football games only up to this point, but my hometown is only a two hour trip down the road to the Tennessee Titans stadium, so I just had to put a Titans game on the Tailgate Tour schedule! Since this game was so close to home I was able to smoke a Boston Butt overnight. I pulled it the next morning, let it rest, and then placed it in an ORCA cooler while it was still warm until it was time to serve. The ORCA cooler did a great job of keeping it warm and insulated. This game started early in the day, so we had to get on the road bright and early, so that we would have plenty of time to get set up, cook, and clean up before the game started. We had an amazing spot right across the street from the stadium. This was an extra exciting game because we had a lot of people traveling from our hometown to meet up with us to Tailgate. I also had my friend from Big K's Que coming to support us as well.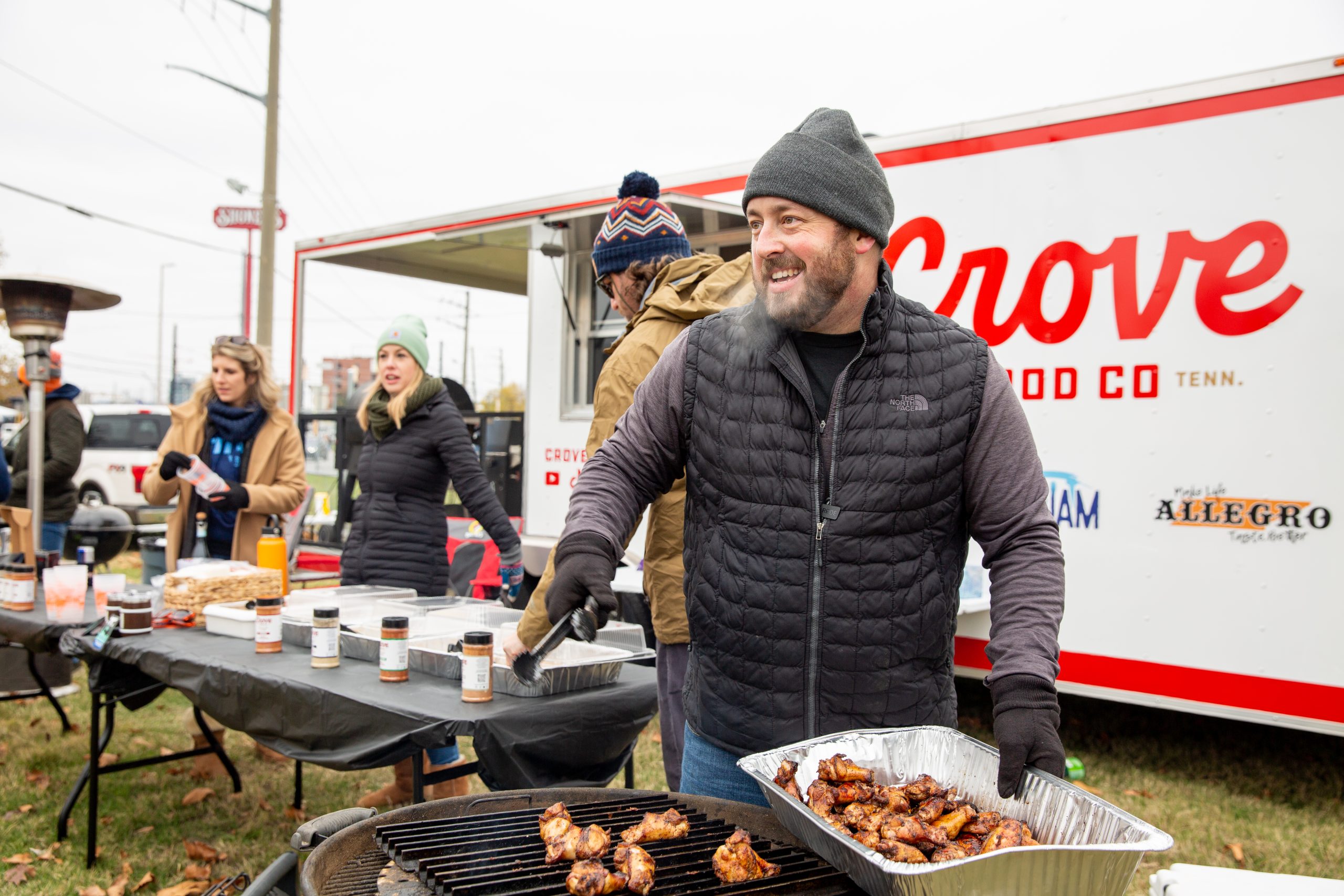 Today's recipe lineup includes BBQ Quesadillas, Smoked Queso, and Nashville Hot Wings. While we traveled, all the ingredients stayed cold in our ORCA hard-side coolers. I never have to worry about any food safety issues when using these. ORCA coolers are the perfect on the go "refrigerator."
      The first thing we started on were the Nashville Hot Wings. We were in Nashville, so we thought it was a no-brainer to use Allegro Marinade's Nashville Hot on chicken wings. Chicken wings feed a lot of people and are the perfect tailgating food.
Recipe for Nashville Hot Wings: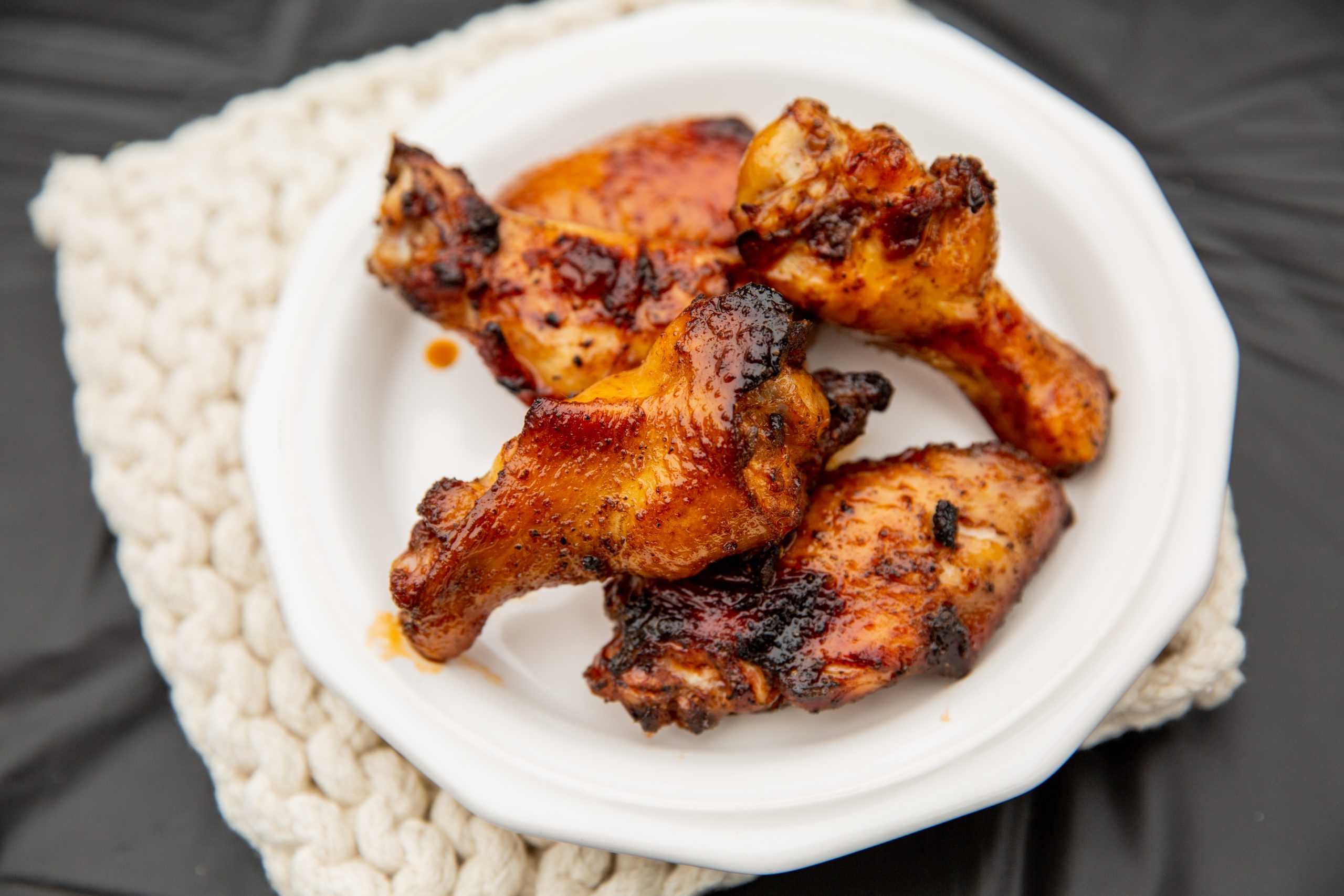 Ingredients:
Directions:
Preheat your smoker to 275 degrees Fahrenheit. We used

Cowboy Charcoal's Charcoal and Applewood Pellets

in my Traeger and I finished them on GrillGrates over my Weber Kettle to give them a crispier texture.

Use 2, 1-gallon Ziplock baggies. Half the chicken wings and place them in the baggies.

In each baggie, pour ½ bottle

Allegro Marinade Nashville Hot

and seal.

Marinate for 3 ½ hours in a cooler or refrigerator.

Remove from marinade and spread the chicken wings out in a pan.

Generously season both sides of the chicken wings with

Crove Food Co. Poultry Rub & Seasoning

.

Place the wings on the smoker. Cook for about 30 minutes and then flip to cook for another 30 minutes until the chicken reaches an internal temperature of 165 degrees Fahrenheit.

Finish the wings over GrillGrates on Weber Kettle, 3-5 minutes per side or until they have an extra crispy texture without being too overcooked. 

Serve and enjoy!
  The next thing that we made was Smoked Queso. Smoked Queso is so tasty and very easy to customize to your flavor preferences. We made a very large pan of it, so that we could feed a lot of people. This smoked queso paired great with the BBQ Quesadillas and a lot of people ended up dipping their quesadillas in the queso or making BBQ nachos. Scale the ingredients back in this recipe if you want to make a smaller portion. 
Recipe for Smoked Queso: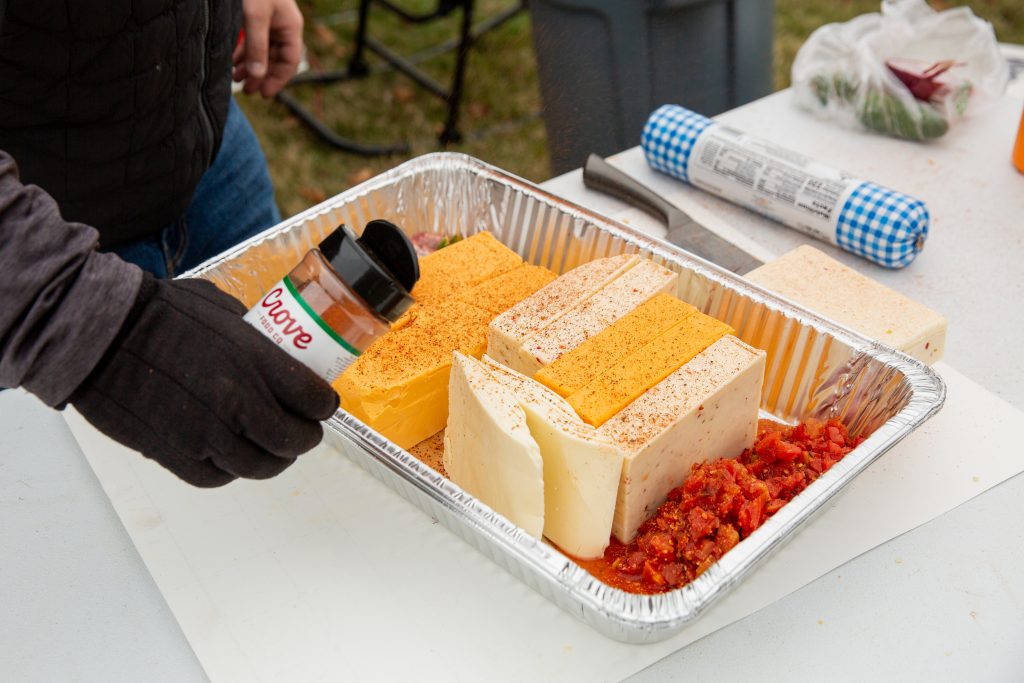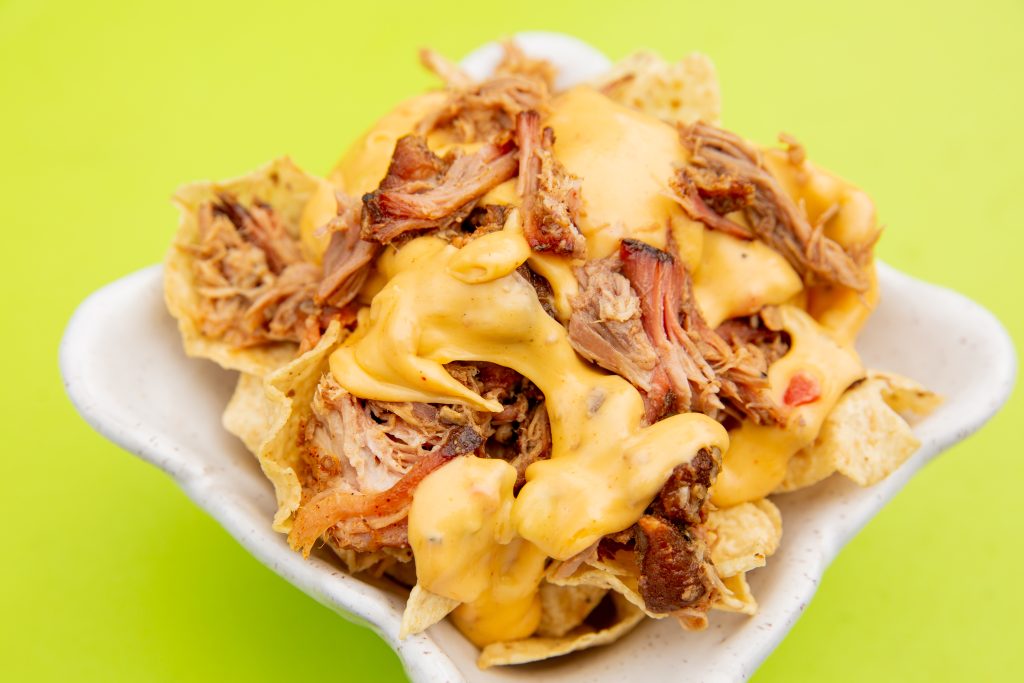 Ingredients:
½ lb of Velveeta cheese

½ Ib of white American cheese

½ lb of pepper jack cheese

½ lb of cheddar cheese

½ cup of milk

16 oz tomatoes with green chilis

¼ cup diced red onion

¼ cup diced jalapenos

1 Tbsp salt

1 Tbsp pepper

1 cup of cooked mild Breakfast Sausage
      Directions:
Assemble all ingredients into a disposable aluminum pan.

Place the pan on the smoker at 250 degrees Fahrenheit.

After 30 minutes, begin to mix all the ingredients together and smoke for another 30 minutes.

Remove and serve with fresh tortilla chips. We used some pulled pork to make Smoked Queso BBQ Nachos. Enjoy!
The last recipe we made for the day was BBQ Quesadillas. We used the Boston Butt that we smoked overnight that we were able to keep warm all morning in one of our hard-side ORCA coolers. I love quesadillas and was excited to serve them alongside the smoked queso.
Recipe for BBQ Quesadillas:
Ingredients:
1 Boston Butt (pulled)

1 package of Extra Large Tortillas

Shredded cheese

Butter
Directions:
Rub a boston butt with Crove Food Co. Pork Rub & Seasoning. Place on a 225 degree Fahrenheit smoker with Cowboy Charcoal Applewood Pellets for about 1 hour per pound. 

Once the internal temp reaches 165, place the boston butt in a disposable aluminum pan. Fold the pan over the sides and then wrap that in aluminum foil all the way around. 

Place the boston butt back on the smoker until it reaches 200 degrees Fahrenheit internal. 

Pull the boston butt off the smoker and let it rest for at least an hour. Then shred it and re-season with pork rub and pour a little Allegro Original BBQ Sauce over the top.
While the boston butt is resting, preheat your weber kettle with GrillGrates (flat side up) with Cowboy Charcoal Briquettes.
After you have pulled the boston butt, assemble the quesadillas. 1 extra large tortilla, shredded cheese, and pulled pork, then fold it in half. Butter the GrillGrates and cook the quesadilla on both sides until the cheese is melted and the tortilla is crispy. Repeat.

Serve and enjoy!
You can find the full recipes on our website at crovefood.com and you can watch me walk you through the day on our YouTube Channel.
A huge thanks to our sponsors GrillGrate, Tennessee River Jam, ORCA, Cowboy Charcoal and Allegro Marinade, we were able to hand out FREE samples to friends, family and strangers who stopped by before the game. We loved getting to show off the products from our sponsors at this stop such as: GrillGrates for our Weber Kettle, ORCA Cooler Hard side to keep all our food cold, Cowboy Charcoal's Charcoal and Applewood Pellets, Cowboy Charcoal Briquettes and Allegro Marinade Nashville Hot. We also got to showcase and cook with our new line of Crove Food Co. Rubs & Seasonings which include Beef, Fajita, Poultry and Pork and are available to order online. Shop now at crovefood.com.
The highlight of the whole day was sitting with my wife and crew at the Tennessee Titans game watching them beat the Denver Broncos. The next stop on the Tailgate Tour will be our LAST stop. I can't believe the Tailgate Tour is coming to an end. The last stop will be in Nashville, TN on Thanksgiving weekend when the Vanderbilt Commodores take on the Tennessee Volunteers. Make sure you are following along on our social media platforms where we will announce exactly where we are set up! Stop by to tailgate with us and try out samples, play games and hang out with our team for our LAST game of the year!
We also made these delicious Crove Party Crackers for people to snack on while they waited for the food to come off the grills. Find the full recipe here.