Louisville, KY is the home of Bourbon, Derby, Muhammad Ali, Louisville Slugger Baseball Bats, and the University of Louisville Cardinals.
      On October 29 we made our sixth stop of the Tailgate Tour in Louisville, KY where the Louisville Cardinals went head-to-head with the Wake Forest Demon Deacons. I have to say that our Louisville stop has been one of the best experiences so far on the Tailgate Tour! The University of Louisville set us up in a prime location right across from the stadium in their state-of-the-art tailgating hub, The Alley. The Alley was built by the university a couple of years ago and features a bar with ample seating, shipping containers turned into concession stands, a large green space with picnic tables and games for the whole family, a DJ, restrooms, and large TVs and a jumbotron playing college sports throughout the day. Each game day The Alley invited different food trucks to set up and we were one of the lucky ones! They were excited when we told them we would be handing out FREE food thanks to our sponsors- GrillGrate, Tennessee River Jam, Allegro, Cowboy Charcoal, and ORCA. We traveled to Louisville on Friday, October 28 and we were able to set up the trailer in The Alley the night before the game. This was so nice for a change of pace. We usually have to set the trailer up the day of the game. After we set up the trailer, we headed to our AirBNB which was just a couple blocks away from the UofL and very close to Churchill Downs. We didn't have long at the Air BNB before it was time to get ready to head to lunch.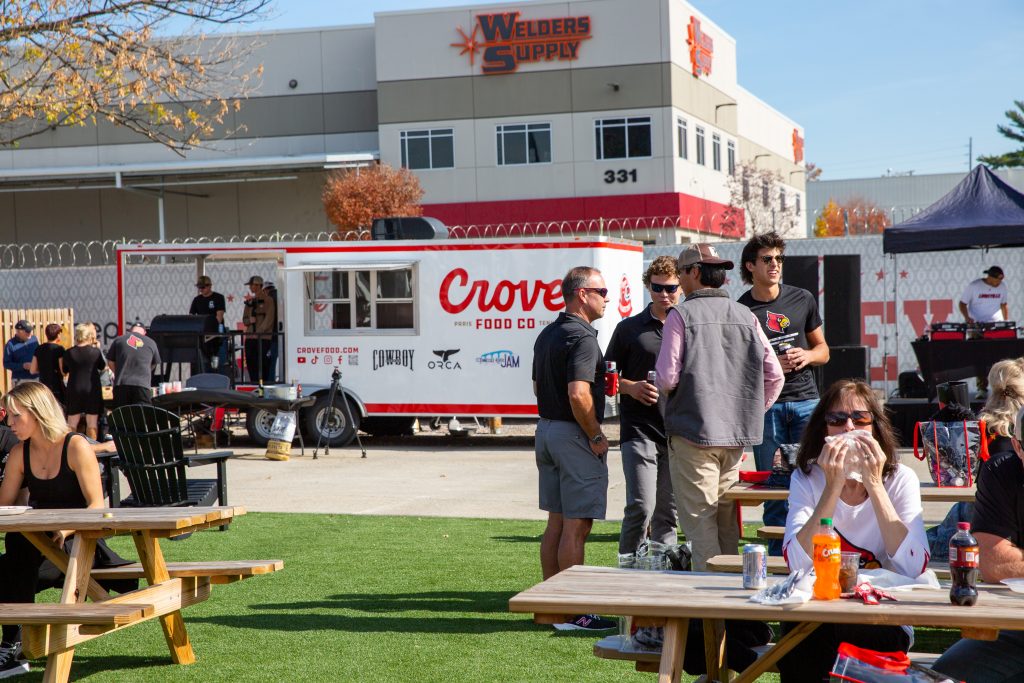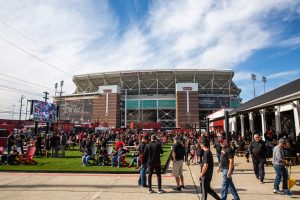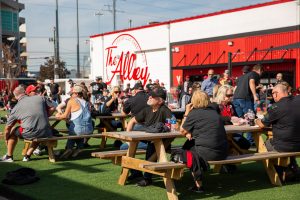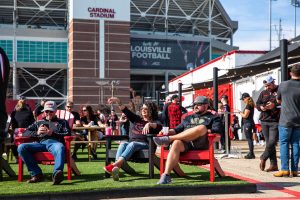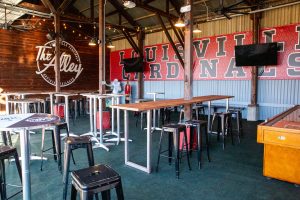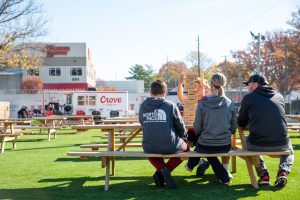 We chose to eat lunch on Bardstown Road. It was a beautiful drive and the leaves on the trees in the neighborhoods were at peak fall color! We ate at The Eagle which is a food and beer hall. Most of the food on their menu can be ordered family style. They claimed to have the best fried chicken in Kentucky and of course I had to test that claim out! Our crew ordered fried chicken with hot spicy honey, fried chicken sandwiches, spoon bread, macaroni and cheese, horseradish mashed potatoes, and drinks. Everything that we ate was delicious and we had an awesome server. We will definitely have to go back!
       After lunch we went back to the AirBNB to rest for just a couple hours, but once again, we didn't have long before it was time to head downtown. We were so excited to be invited to take part in a private tour of Old Forester on Whiskey Row. I love bourbon and was so excited to not only take a private tour, but to be able to bring my film crew and film the whole tour, so that I can share that experience with all of you. Old Forester was founded and created by George Garvin Brown and named after Dr. William Forrester. We learned about the process of distilling bourbon from start to finish and at the end we had a private taste test. I was obsessed with the flavor and decided it had to be featured in one of my recipes tomorrow- Maple Bourbon Chicken Skewers.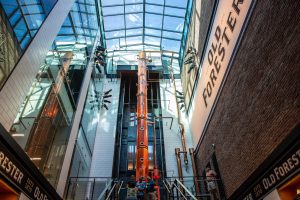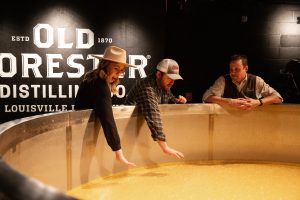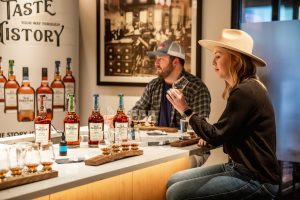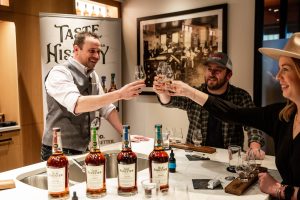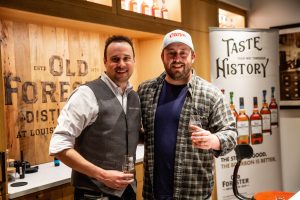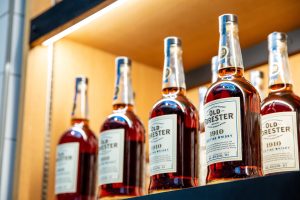 After our tour, we met up with some of my wife's family who are Louisville residents and had dinner around the corner at Sidebar at Whiskey Row. This historic limestone structure was originally built in 1877 by the L&N Railroad to serve as their headquarters, which is pretty cool considering that I used to work for a railroad company and a lot of my family still does. We had some very delicious burgers and drinks! We then headed back to the AirBNB for my crew to get a good night's rest before game day!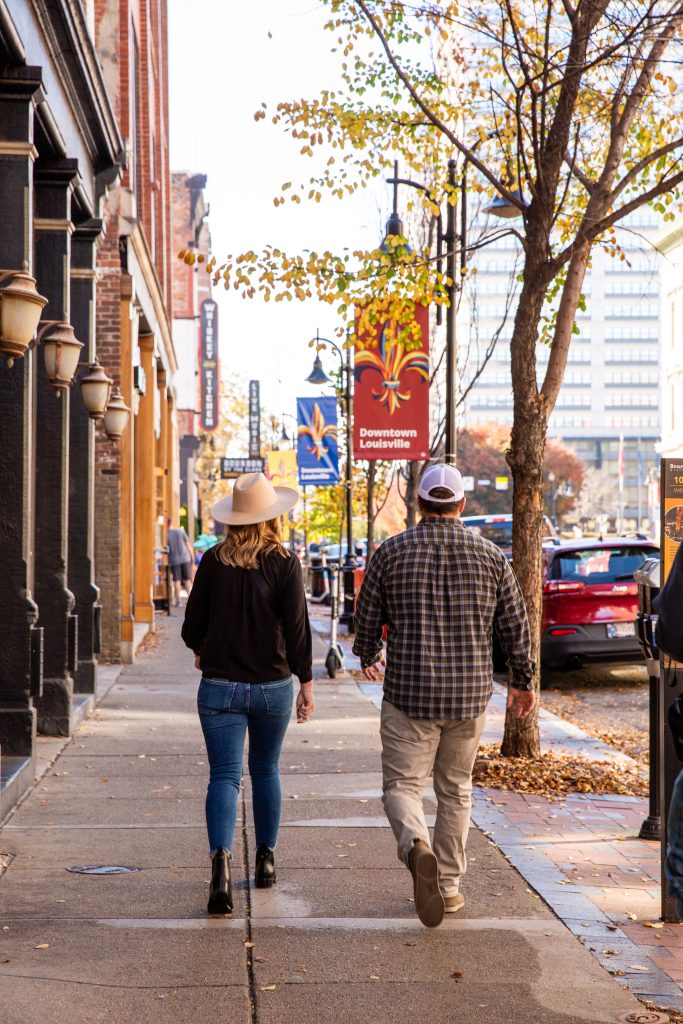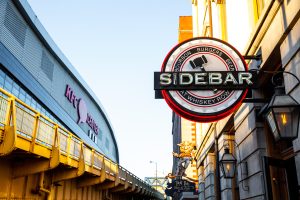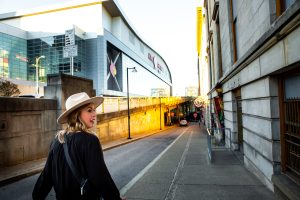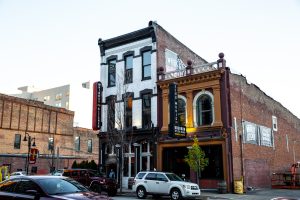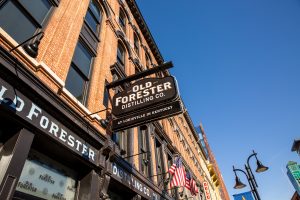 On Saturday, I woke up early and anxious to get the day started! We loaded up all of our film equipment and ingredients for the day and headed to the UofL with a promised stop at Starbucks on the way for breakfast and coffee. Today's recipe lineup includes Pig Shots, Maple Bourbon Chicken Skewers, and Kentucky Hot Brown Sliders. I chose recipes that I hoped would pay homage to Kentucky history, flavors, and traditions.
      The first thing we started on were the Pig Shots. I prepped a lot of the ingredients for the pig shots the night before the game at our AirBNB, so that I could save time on game day. This is the second time I have made pig shots on the Tailgate Tour and they are always a big hit. They feed a lot of people and are packed full of flavor!
Recipe for Pig Shots: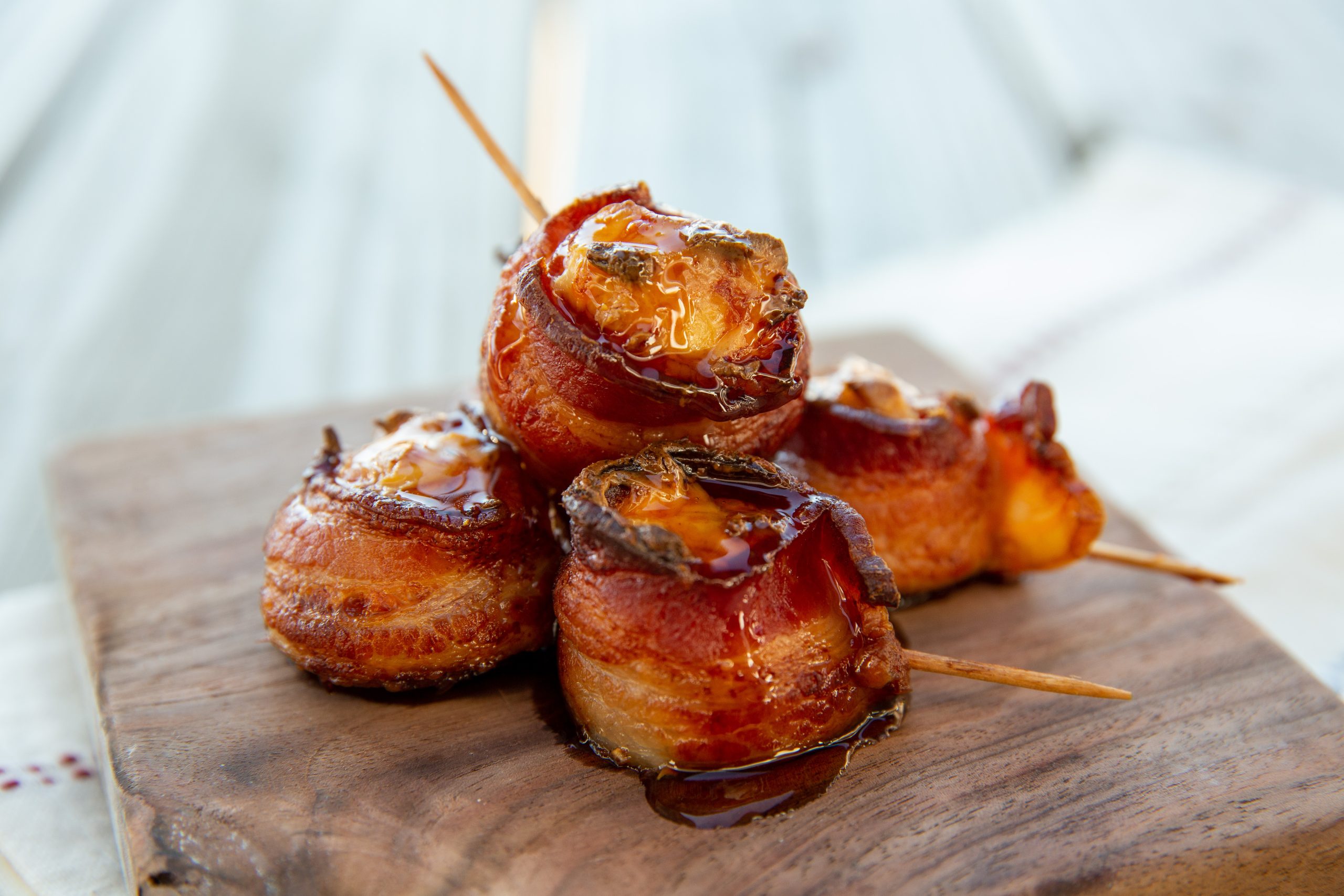 Ingredients:
1 package Smoked Sausage
1 package Bacon
1, 8oz. block softened Cream Cheese
1 cup Shredded Cheese
Maple Syrup
Other supplies: 1 large Ziplock baggie, toothpicks
Directions:
Preheat your smoker to 350 degrees Fahrenheit.
Remove your smoked sausage from the packaging and with a knife slice the smoked sausage into 1/2-inch round slices.
Remove the bacon from packaging and with a knife slice the bacon in half lengthwise.
Gather toothpicks, smoked sausage, and bacon. Using one piece of bacon and one piece of sausage, roll the bacon around the outside of the smoked sausage round. Use one toothpick to stick through the outside of the bacon all the way through the sausage and back out the other side. The rim of the bacon should stick up above the sausage creating a "bowl" for the cream cheese mixture to go in. Complete this step until all rounds of smoked sausage have been wrapped in bacon.
In a medium sized bowl, mix one block of softened cream cheese, 1 cup of shredded cheese, and a few shakes of fajita rub. Mix all together with a spatula.
Open a large Ziplock baggie. Using the spatula, scoop all the cream cheese mixture into the bottom of the baggie. Use your hands on the outside of the baggie to work all the mixture into one bottom corner of the baggie. Remove all the air and seal the baggie.
Using scissors, cut one small corner of the baggie.
Squeeze the cream cheese mixture into the top "bowls" of the bacon/sausage rounds.
Place on the smoker for around 50 minutes, or until the bacon is fully cooked.
For the last 10 minutes of cooking, drizzle the tops of the Pig Shots with maple syrup.
Serve and enjoy!
     While the Pig Shots were on the Traeger, the next thing we got started on were the Maple Bourbon Chicken Skewers. I couldn't wait to use some of my Old Forester bourbon in this recipe. My GrillGrates for my Weber Kettle were perfect to cook these on because the skewers can lay right between the ridges. We used Cowboy Charcoal Briquettes to give them that delicious wood-fire grilled flavor.
–
Recipe for Maple Bourbon Chicken Skewers:
Ingredients:
6 Boneless skinless chicken thighs
1-gallon Ziplock baggie
Wooden skewers
½ cup Bourbon (We used Old Forester)
4 tbsp. Butter
½ cup Maple syrup
½ cup Brown sugar
Directions:
Marinate boneless skinless chicken thighs in a large Ziplock baggie in Allegro Honey Garlic marinade for 2-4 hours.
Remove the chicken from the marinade and cut them up into bite size pieces.
Place 5-7 pieces of chicken on each skewer.
Generously coat the chicken on both sides with Crove Poultry Rub & Seasoning.
Next, we will start on the maple bourbon glaze. In a saucepan over medium heat, whisk together bourbon, butter, maple syrup, and brown sugar. Simmer over medium heat until it's all well-combined.
Fire up your charcoal grill. We used Cowboy Charcoal Briquettes.
Place the skewers on your GrillGrates and grill for 5 minutes per side.
Then brush the glaze onto the chicken while it's still on the grill and make sure to coat both sides.
Remove from the grill.
Serve and enjoy!
*Pro-tip: Clean your GrillGrates while they are still hot or you will regret it! The sugars from the glaze will be very sticky and hard to clean once cooled.
       For the last recipe of the day, I chose to make Kentucky Hot Brown Sliders. A Kentucky hot brown is traditionally made as a hot, open faced sandwich with turkey, bacon, tomato, and mornay sauce. In order to feed a lot of people, I decided to make a spin-off of the Kentucky Hot Brown and turn them into sliders. Kentucky Hot Browns have tomatoes, which I decided to leave out. I also didn't make a Mornay sauce, but instead I used sliced cheese- Swiss or pepper jack are both great options. This is my take on a Kentucky Hot Brown and it turned out to be a delicious, crowd-pleaser!
Recipe for Kentucky Hot Brown Sliders: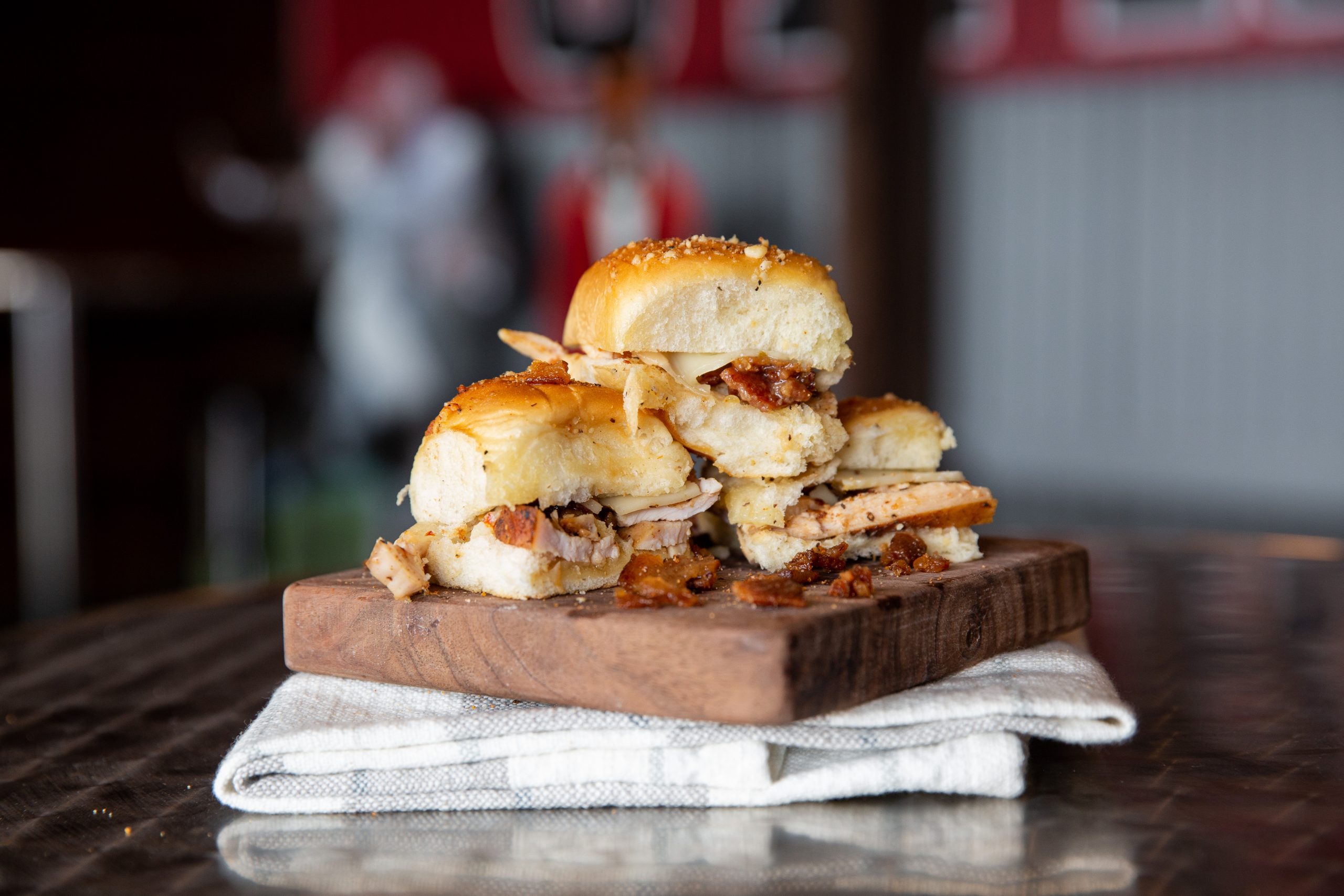 Ingredients:
Brine: 
1 gallon of water
1 Cup kosher salt
¼ Cup brown sugar
3 Tbsp honey
3 bay leaves
3 Sprigs of rosemary
3 Sprigs thyme
1 Bunch sage
¼ Cup peppercorns
8 Cloves of garlic
2 lemons
1 orange
Directions:
Mix together your brine. Add the salt to the pot of water and place it over medium heat. Stir with a whisk until the salt is dissolved. Once dissolved, add in other brine ingredients. Let it sit until the brine is at room temperature or colder. Add in your turkey, cover, and place in the fridge for 8-12 hours.
The next day, remove the turkey from the brine, generously coat the turkey breast in Crove Food Co. Poultry Rub & Seasoning on all sides. Leave the turkey sitting out and bring to room temperature.
Preheat the Hasty Bake to 250 degrees Fahrenheit using Cowboy Charcoal Briquettes with Cowboy Charcoal Applewood Chunks for extra smoked flavor.
Place turkey on the grill until the turkey reaches an internal temperature of 165 degrees Fahrenheit.
Remove the turkey from the grill and let it rest for about twenty min.
Slice the turkey.
Fry bacon in a skillet, then crumble into small pieces.
Start layering the sliders in a metal pan. Remove the tops of the sliders. Layer in this order: bottom of sliders, sliced turkey, cheese, crumbled bacon, tops of sliders.
Mix together melted butter and Crove Food Co. Beef Rub & Seasoning, then brush that on top of the sliders.
Place the metal pan directly on the grill and cook the sliders until the cheese is melted.
Serve and enjoy!
        We had such a busy day! We had so many people stop by that we ran out of food right before it was time to shut down. The Alley estimated that they had over 3,000 people stop by before the game. After we cleaned everything up and got the trailer packed up, the crew and I headed across the street to the game. The UofL was so generous and gave us 5 free tickets to the game. They have an amazing stadium, friendly staff, and I can't brag on The Alley enough. Best tailgating experience by far! Even if you aren't a Cardinals fan you definitely need to add The Alley to your bucket list! There is so much to do in Louisville and this is a stop you don't want to miss.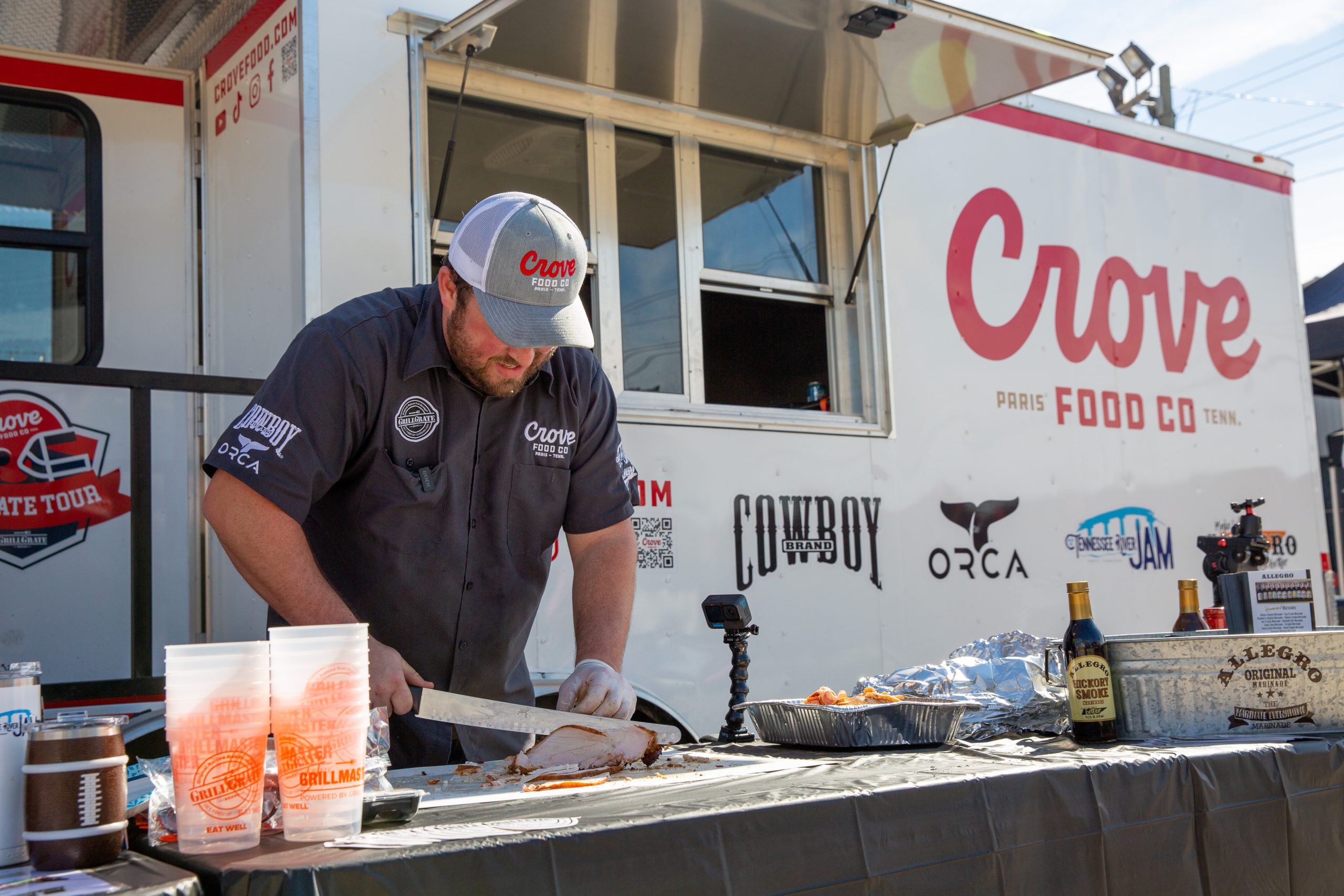 You can find the full recipes on our website at crovefood.com and you can watch me walk you through the day on our YouTube Channel.
     A huge thanks to our sponsors GrillGrate, Tennessee River Jam, Allegro, Cowboy Charcoal, and ORCA, we were able to hand out FREE samples to friends, family and strangers who stopped by before the game. We loved getting to show off the products from our sponsors at this stop such as: GrillGrates for our Weber Kettle, ORCA Cooler Hard side to keep all our food cold, Cowboy Charcoal's Charcoal and Applewood Pellets, Cowboy Charcoal Briquettes and Allegro Marinade. We also got to showcase and cook with our new line of Crove Food Co. Rubs & Seasonings which include Beef, Fajita, Poultry and Pork and are available to order online. Shop now at crovefood.com.
      The next stop on the Tailgate Tour will take us to Athens, GA when the Georgia Bulldogs will take on the Tennessee Volunteers on November 5. We are so excited to travel to Georgia and hang out with our GrillGrate friends. Make sure you are following along on our social media platforms where we will announce exactly where we are set up! Stop by to tailgate with us and try out samples, play games and hang out with our team!