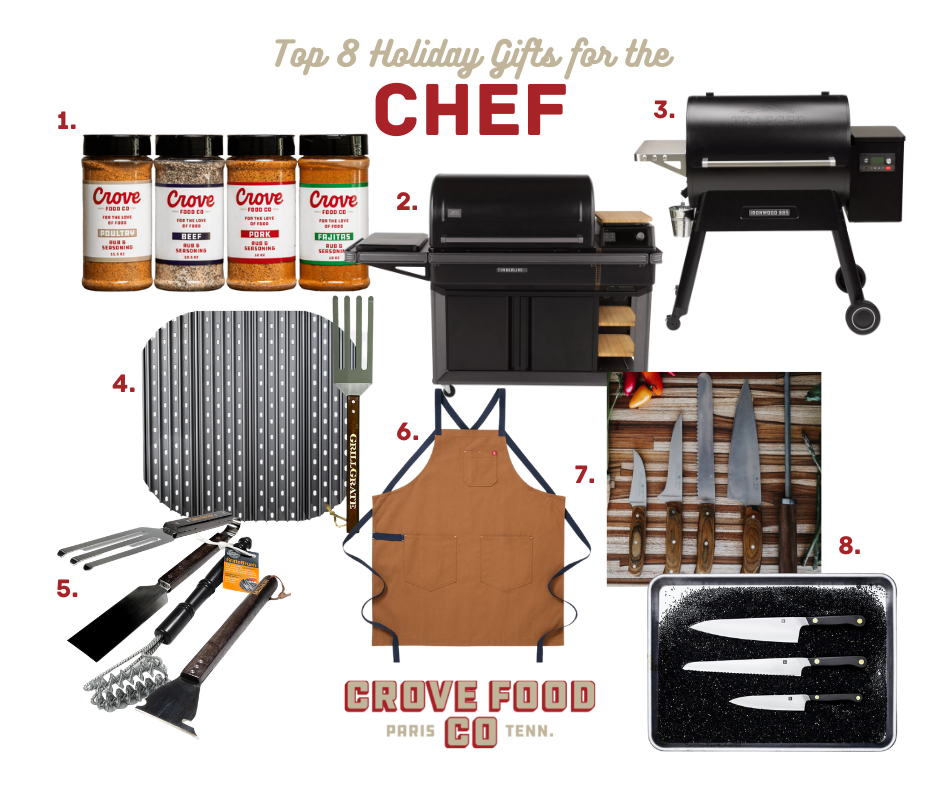 We have put together our Top 8 Gifts for the Chef on your holiday shopping list to make shopping a breeze. We have tried all of thees products and stand behind these brands 100%. Click the linked products below to shop!
1. Crove Food Co Rubs & Seasonings Multi-pack
From the brand new chef to the professional chef, everyone will love our rubs and seasoning multi-pack! The multi-pack comes with our full line and features Beef, Poultry, Pork, and Fajita. They are very versatile and are packed full of flavor. Made in the USA. Each bottle features a QR code on the side. Simply scan the QR code on the side and be directed straight to a multitude of recipes with videos of how to use our rubs. We now offer gift-wrapping! You can also enjoy free shipping when you spend $100.
Regular price: $43.00
Discount CODE for 10% off:
GIFTGUIDE
Shop Crove Food Co. Rubs & Seasonings
here
2. Traeger Timberwood XL 
This is a higher-end gift. The Traeger Timberline XL is the Cadillac of pellet grills. Features 1,320 sq. inches cooking area with the option to add on accessories to personalize and fit your specific needs. Smart Combustion™ technology, fully insulated dual-wall construction, Traeger Induction® cooktop, EZ-Clean™ Grease & Ash Keg, WiFIRE® connectivity, P.A.L. Pop-And-Lock® Accessory Rail, Traeger Downdraft Exhaust® + Super Smoke® Mode, Touchscreen display, Adaptable for built-in use, 10-year limited warranty
Regular price: $3,799.99
Shop Traeger Timberwood XL here
3. Traeger Ironwood 885
The Traeger Ironwood 885 is the best value Traeger in my opinion. It is pro level and still has all of the features that the Timberwood XL has, just more affordable. I own the Traeger Ironwood 885 and have loved it. I have used it for every stop of the Tailgate Tour, so it has gone on the road with me and has been very durable. The Ironwood 885 features 885 sq. inch cooking area with the option  to add on accessories to personalize and fit your specific needs. Downdraft Exhaust & Super Smoke Mode, Pellet sensor, Dual Position Smoke/Sear Bottom Grate, WiFIRE Technology, D2 Grill Controller, Double Side Wall Interior, Included Meat Probe, Porcelain-Coated Grill Grates, All-Terrain Wheels, Locking Caster Wheels, Grill Tool Hooks
Regular price: $1,399.99 
Shop Traeger Ironwood 885 here
4. GrillGrate for Weber Kettle
Shop for custom fitting GrillGrates for you indoor and outdoor grills. I have used these on so many different grills, but I chose the GrillGrate for Weber Kettle because I find myself using it the most. GrillGrates deliver more control and flexibility to charcoal grills, making them the ultimate upgrade for your 26.75" Weber Kettle. They act as a flame shield allowing more direct grilling at higher temperatures. GrillGrates for charcoal grills are used on top of the existing surface. GrillGrates are reversible interlocking panels, giving you two grilling surfaces; rails up or on the flat side. Constructed from hard anodized aluminum, GrillGrates will never rust. Made in the USA.
Regular price $199.99
Free shipping on U.S. orders of $69+
5. GrillGrate Grate Accessory Pack
The Grate Accessory Pack has all the essentials you need to grillGRATE! The ComboTong is part spatula, part GrateTool and is GRATE for precision lifting, twisting, and flipping. Glide the rails of GrillGrates with the Detailing Tool and Scraper, freeing them of hard stuck-on carbon. Clear the valleys of GrillGrates of debris and burnt marinades with the bristle-free Stainless Steel Grate Valley Brush. This bundle will be a great addition to your griller's stocking! 
Free shipping on U.S. orders of $69+
Regular price: $53.99
Shop The Grate Accessory Pack here
6. Hedley & Bennett Denver Brown Crossback Apron
Right now Hedley and Bennett is having an amazing sale- 20% off sitewide, 30% off $150+, 40% off $350+ and free shipping when you spend $125. The Denver Brown Crossback Apron has amazing reviews and because it is cross back style it won't hurt your neck. The criss cross straps take pressure off your neck, distributing weight across your shoulders and back. It has numerous pockets for all your stuff, and a utility loop for your tongs or towels. Stain-resistant, pro-grade machine washable materials keep your aprons looking fresh. I love all of my Hedley & Bennett aprons! 
Regular price: $95.00
Shop Hedley & Bennett Denver Brown Crossback Apron here
7. Bear Creek Knives Ouray Knife Set (5-piece)
OURAY KNIFE SET (5-PIECE)
You cannot beat the quality of any of the Bear Creek Knives. The Ouray Knife Set is an amazing set to buy the chef in your life or for yourself to replace your old knives or to start a new collection. They are heirloom quality and will last your lifetime.  Bear Creek Knives offer free re-sharpening for life. They are handmade with premium stainless steel. Combining beautiful aesthetic with nearly every knife you might need in the kitchen, the Ouray Set offers high style with all the practical function you'd need in the kitchen. Available in 3 different colorways. Set includes: (1) Chef's Knife, (1) Bread Knife, (1) Boning Knife, (1) Paring Knife, (1) Honing Rod with a fully guaranteed lifetime warranty. 
Regular price: $490.00
Shop Bear Creek Knives
here 
8. Hedley & Bennett Chef's Knife Set (3-piece)
I have chosen the Hedley & Bennett Chef's Knife Set as a better value option compared to Bear Creek. Hedley & Bennett just released their line of knives and I am so impressed with the quality. The Chef's Knives Set comes with a chef's knife, utility knife, and bread knife- made with high quality materials, used and tested by home chefs and pro chefs, and lifetime guarantee. This set comes in three different colorways- Enoki White, Shisho Green, and Caviar Black.
Regular price: $265.00 
Shop Hedley & Bennett Chef's Knife Set here