10 Reasons to Consider- LoCo Cookers 16 in. Griddle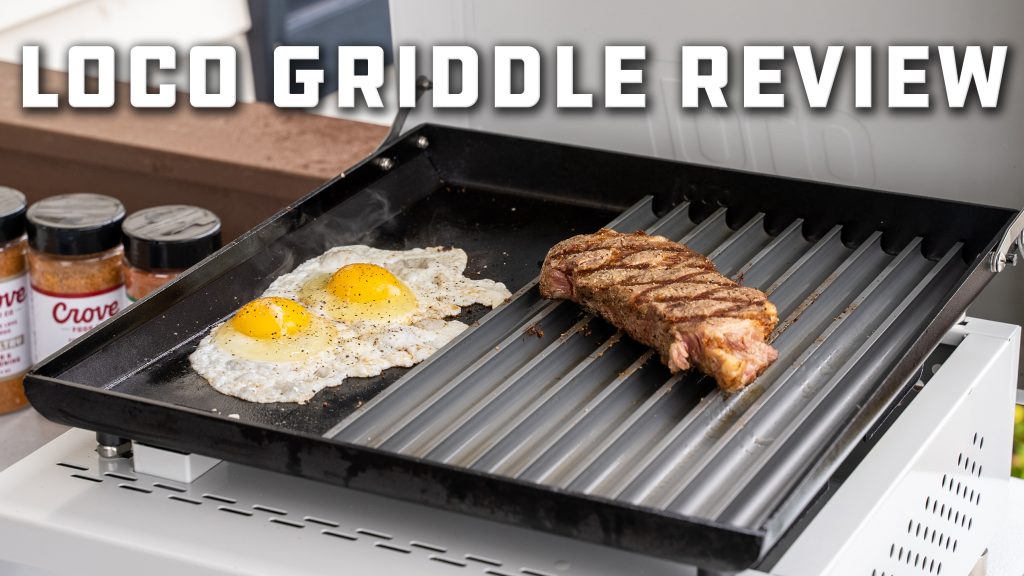 Today we're reviewing the LoCo Cookers 16" SMARTTEMP™ tabletop griddle. I've tested it out and put together a long list of pros and a very short list of cons. I will also share tips on how to season your griddle and a delicious Steak & Eggs recipe. 
Here are my top 10 reasons to consider purchasing…
SMARTTEMP™ Technology-

thermostat temperature control precisely maintains cooking temperature from start to finish

Quick & Easy Assembly-

took me about 10 minutes to put together!

Propane-

Runs off of 1 pound propane cylinder which keeps it very portable, but it also has the option to run off a bigger tank if you purchase an add on adapter

Sure Spark Ignition-

lights very easily on the first try!

Portable-

very easy to move around

Unique burner pattern

– provides an even cooking surface and no wasted cooking space

Large lid-

helps keep the griddle clean when not in use and helps to retain heat while cooking

Cook smelly food outside-

my wife hates the smell of bacon frying in our house, now I can do that outside!

Sear mode-

turn it all the way up to sear mode and sear meat hot and fast.

Custom GrillGrates- GrillGrate has launched custom SEAR'N SIZZLE GrillGrates for this LoCo 16 inch! If you know me you know I love to cook on GrillGrates, so this was definitely a selling point for me! 
After testing it out, I only found one CON. Read more to find out what my only complaint about this griddle is. 
But before you do that, here is the BEST part of this blog… we are giving one of these griddle and more away for FREE! 
We've partnered with our friends Loco Cookers, GrillGrate, and Hassle Cattle Company to bring you a prize pack with everything you need for GRATE griddlin' anywhere!
One lucky winner will be picked on January 3, 2023. Giveaway includes:
– 16" SMARTTEMP™ TABLETOP GRIDDLE
– SEAR'NSIZZLE® GRATE FOR THE 16″ LOCO TABLETOP GRIDDLE
– CROVE FOOD CO. MULTI-PACK RUBS KIT
– HASSELL CATTLE COMPANY $100 GIFT CARD
Enter here: https://bit.ly/3Wc2SLc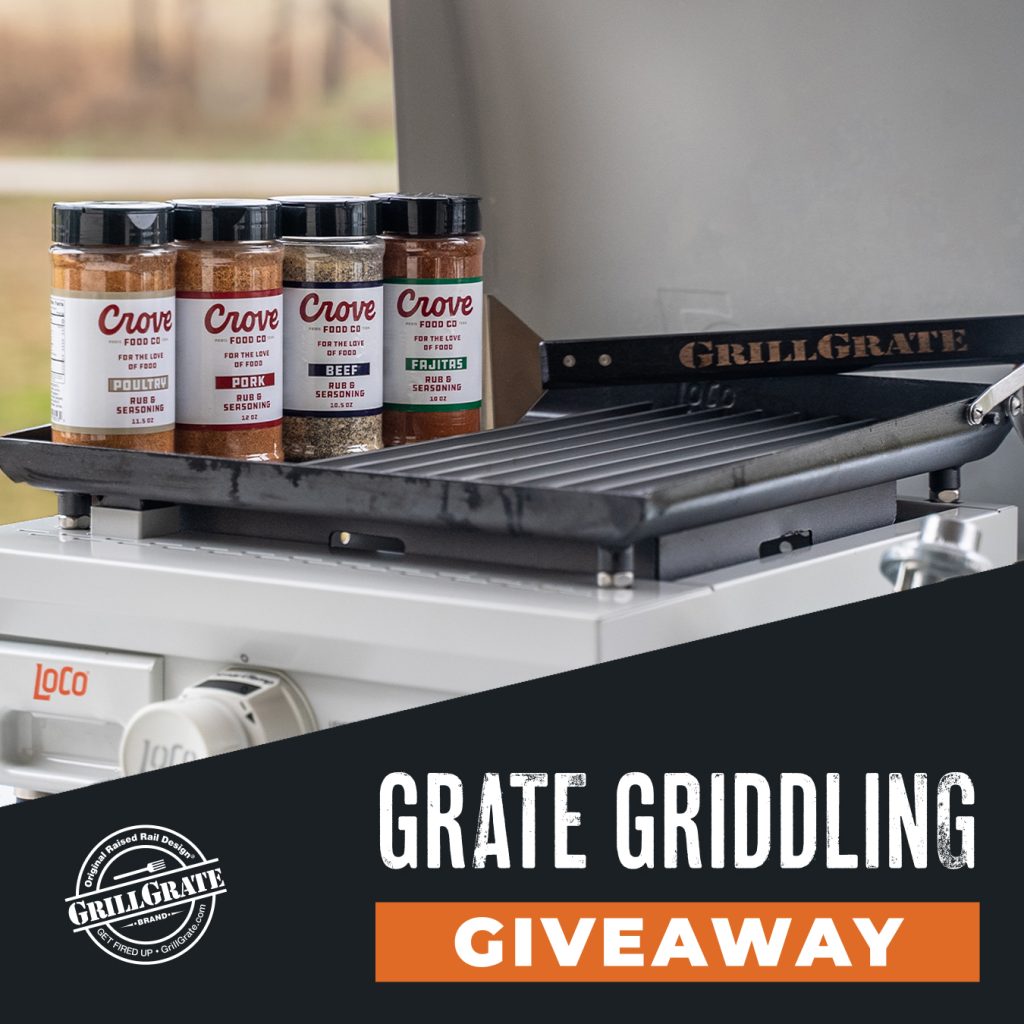 Let's start breaking down the LoCo 16 inch SmartTemp Tabletop Griddle…
It's been a long time since we've sat down for a full product review but it's something we're going to start consistently doing going forward. If you have any products you want to see an honest in-depth review of please let us know. LoCo Cookers sent us this product to use for us to use for the giveaway, but with that being said- they have NOT asked us to do this full review.
Everything here is the honest truth, so let's get into it.
This griddle is the smaller, more portable version of the three griddles that LoCo Cookers has to offer. If you're not familiar with LoCo Cookers just know that this company has been around for a long time. They have been making outdoor cooking products for over 25 years. I personally knew of LoCo because we used to use LoCo Cookers for frying turkeys on Thanksgiving when I was growing up. Now I see them all over Instagram with some of the biggest names using their new griddles and other products that they have to offer. 
Reason #1- SmartTemp Technology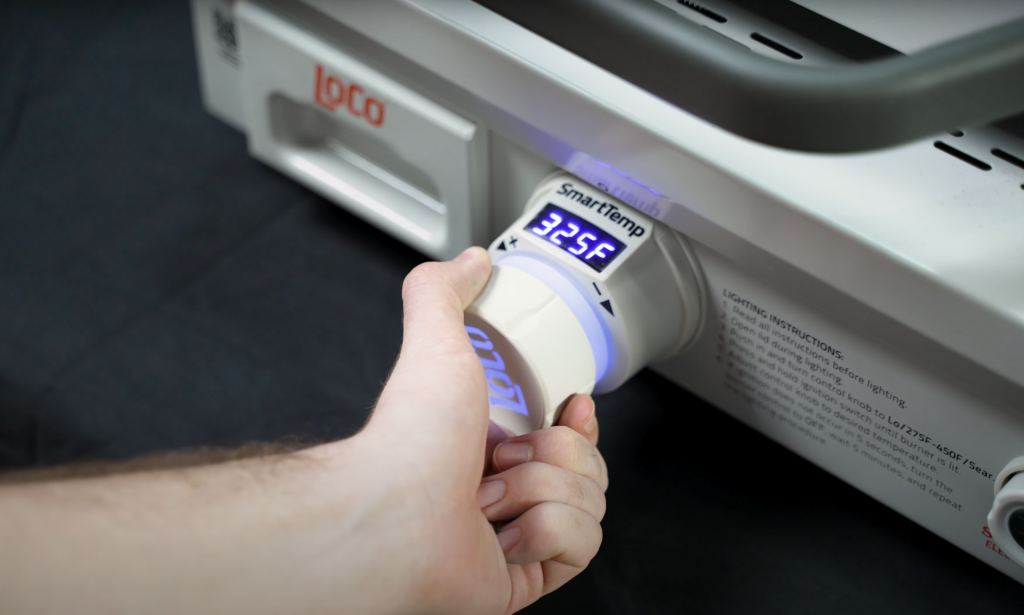 The first thing I think of when it comes to these cookers is they're sort of like the Cadillac of griddles. Sure you can get some cheaper ones out there, but as with most things you really get what you pay for. All of their griddles come equipped with their signature SmartTemp Technology. This griddle comes with a digital temperature display and a thermostat temperature control that lets you fine tune your temperature and precisely maintain your desired temperature throughout the entire cook. It features 25 degree increments that you can turn up or down. This is useful for many different applications- like for example, when I'm making breakfast, I like to cook bacon slow and low, but I like to cook my sausage hot and fast. Having that precise temperature control is a huge value to offer in this griddle.
Reason #2- Quick and Easy Assembly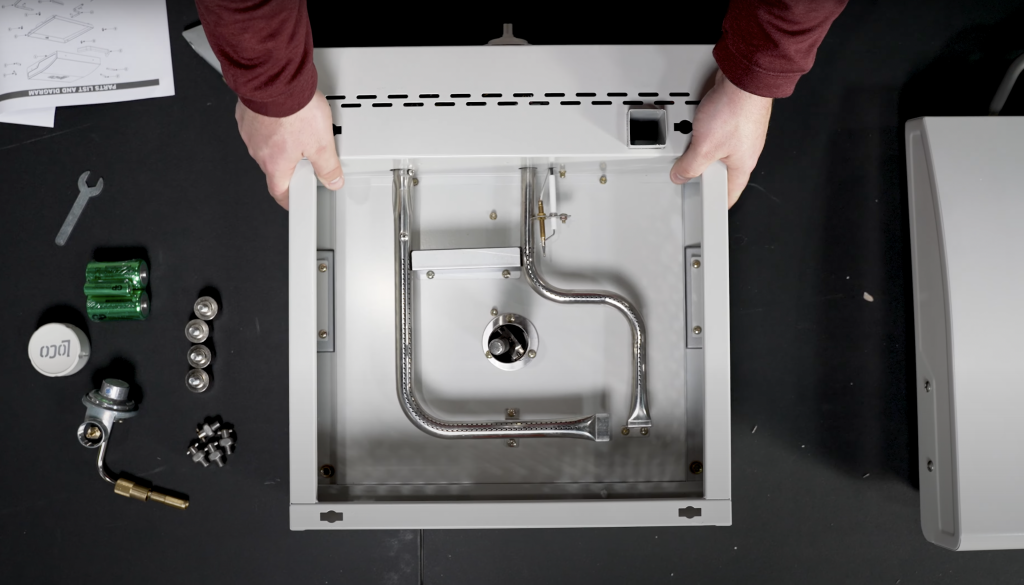 Let's talk about the assembly of this product. When I'm buying something like this I don't want to spend an entire Saturday putting it together. I was pleasantly surprised with how quickly this thing came together. I was actually able to assemble it within about 10 minutes or so. 
Reason #3- Propane
The third thing I like about this griddle is that it runs off of a little one pound propane cylinder, but you can also purchase an adapter to get a bigger propane tank. For me, I'll probably stick with the small one pound cylinders because I'm going to be using this in a lot of different places. If you're going to keep this in the same spot it's really nice to be able to have a bigger propane tank and not have to change it out as frequently. 
Reason #4- Sure Spark Ignition
This griddle also has what they call a sure spark ignition. I've only used it a few times, but so far I haven't had any issues with this thing lighting up on the first try.It also comes with a built-in match holder which is really cool in case you do have to light up with a match which makes it more safe. 
PAUSE- New Merch Alert!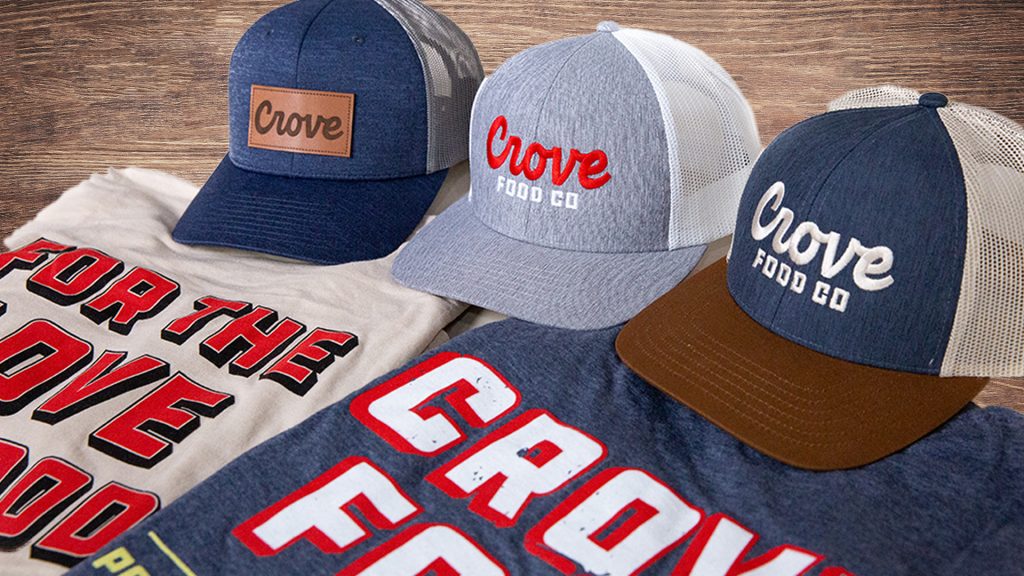 After we assembled it I took it home to test it out. I was going to set up a camping scene, but it's been raining every day for like two weeks now, so today we're gonna be on the front porch. Before we get to cooking on this thing, I have a very exciting announcement! We finally have Crove Food Co. merch to sell! We have two shirt styles and three hats styles. If you have been following me, you have seen followers asking for this for about two years now and I've been saying we're gonna have it soon… for two years. I'm sorry it took so long, but we finally have it. It's available to purchase on crovefood.com along with our 4 award-winning, Crove Food Co. Rubs & Seasonings. 
Reason #5- Portable
One of my favorite things about this griddle is that the compact size of it makes it very easy to move around. A portable griddle like this would be handy for a lot of different things, like camping, tailgating, fishing, hunting, etc. The portability of this is a huge selling point for me! You just need a flat surface to set it on.
How to Season your Griddle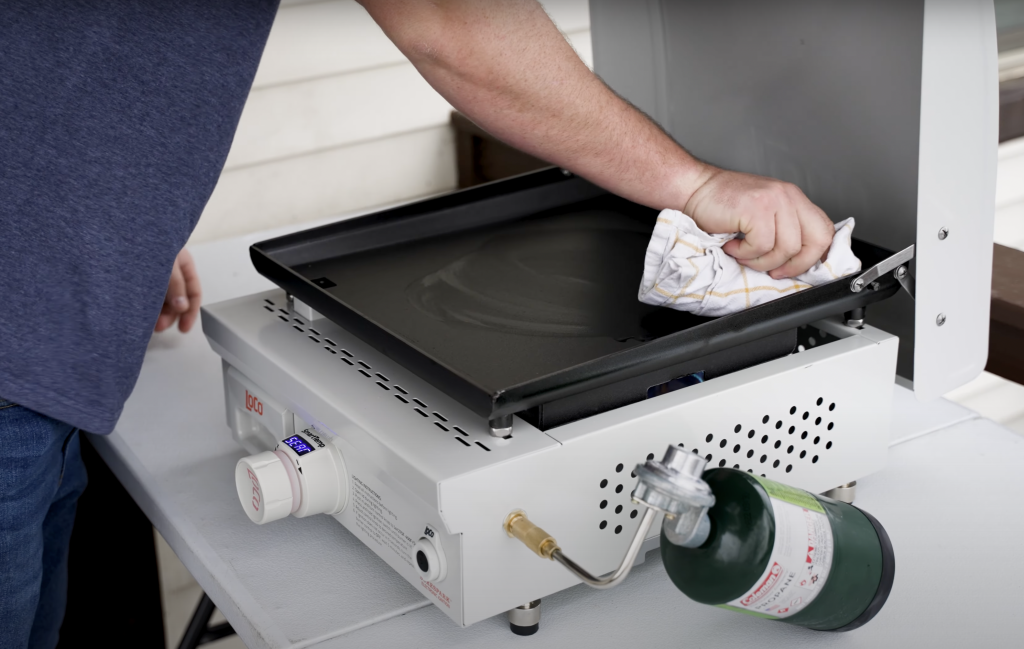 Now, let's get to cooking! With any griddle like this the first thing you need to do is go ahead and season the surface. It's pretty simple to do. All you need is an oil with a high smoke point, like vegetable oil or canola oil, some paper towels and a little bit of patience. Get the surface very hot for about 15 minutes. After it's nice and hot, wipe the surface and the walls of the cooker, so that it's evenly coated. Wait for a few minutes with the heat turned up and then it should look dry again. Then you will repeat two or three more times until you have a nice black coating across the entire griddle. It's good practice to do this after each cook as well. That's what gives you that great non-stick surface. I've always heard that bacon grease is a great way to help get that surface in a great condition, so I always like to cook bacon as my first cook on something like this. This is a great opportunity for some breakfast tacos! 
Reason #6 Unique Burner Pattern
Now that I have seasoned the griddle I will let it cool all the way down because I like to start my bacon at room temperature. This allows the fat to slowly render and the meat of the bacon isn't overcooked by the time the fat is properly rendered down. With any griddle I want an  even cooking surface. I was very surprised by this griddle because the burner isn't sitting in a straight line like most griddles which leaves you with an uneven cooking surface. This griddle has a really unique burner pattern that promotes an even cooking surface, and is for sure a big selling point for me. I also wanted to cook an egg on this to test it out even further and make sure that the surface was nice and non-stick. I was very pleased with my first cook!
Reason #7- Large lid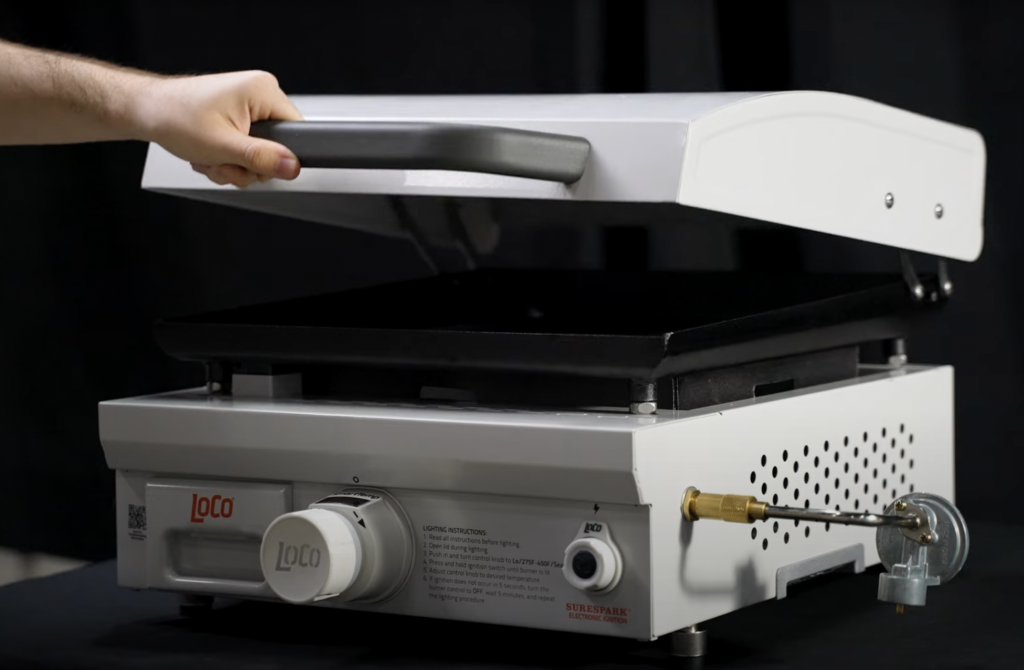 Another great feature of this griddle that I wasn't expecting was the large lid. I know that seems like a minor thing, but it serves two purposes for me. Number one, it's going to help me keep it clean. I have a tendency to keep things not quite as clean as my wife would like, so something like a lid can help me keep it cleaner over a long period of time. The lid will keep out dirt and dust in between uses and aid in keeping the griddle from rusting. Number two, this is actually going to help us in the cooking process keeping the lid closed is going to retain more heat. When we're cooking something like eggs, it will allow for a little bit of heat to circulate from the top down thus giving more control. I finished up the egg and bacon, then toasted up a tortilla for some breakfast tacos! So far, so good!
My 1 and only CON
I have had no complaints so far, but I will say that I'm at home alone today cooking, so I have plenty of space for my food. BUT, if I had a family of five this 16 inch cooking space could really limit me to how much I could cook at one time. This is where you weigh the pros and cons of the 16 inch cooktop versus something like LoCo Cookers 26 or 36 inch griddles. Obviously the benefit with the 16 inch is the portability, so this is a situation where I'd recommend having an idea of what you're going to be cooking on it and where you're going to be cooking on it. For me this is fine, but I can see how it could limit some people who will be cooking for more people.
Reason #8 Cook Smelly Foods Outside
My wife is going to love that I have this griddle because she always loves it when I cook bacon outside. Since I got this griddle I am now able to cook things like bacon or greasy foods outside and it doesn't smell like bacon grease in our kitchen for three days.
Reasons #9 and #10- Sear mode and GrillGrates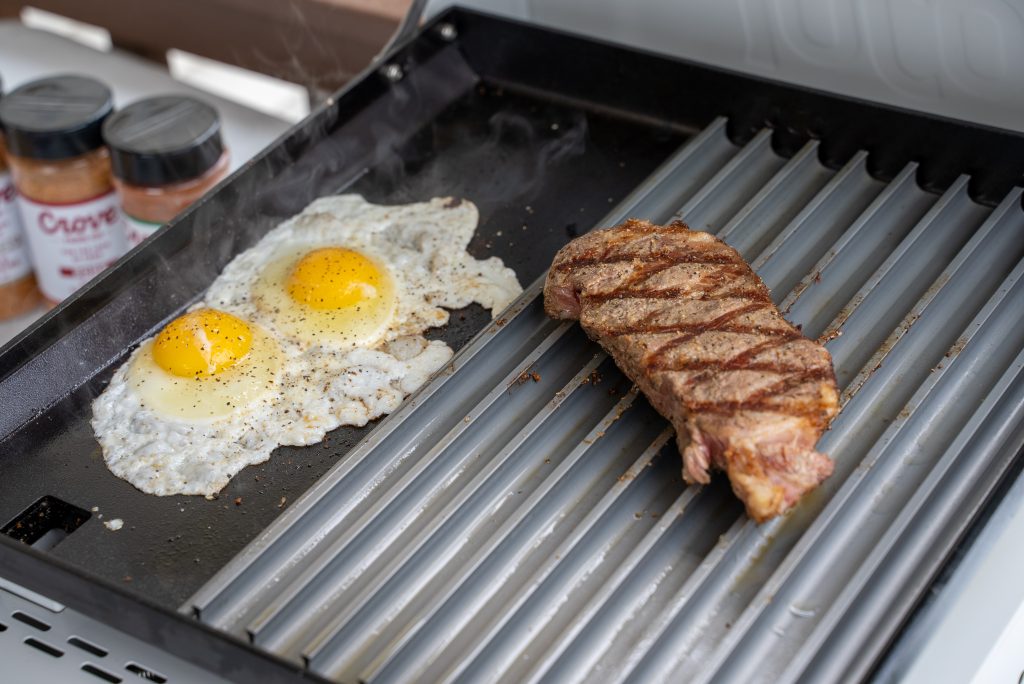 It's time for another test cook and I want to do something a little more complex than the breakfast burrito, so we're going to make some steak and eggs over SEAR'NSIZZLE® GrillGrates that fit the LoCo Cookers 16 inch Griddle. If you know me, you know that I love GrillGrates. We've been using them for a long time now. They have so many benefits aside from the beautiful sear marks that they give you. Be sure to enter the giveaway, because you will have the chance to get a set of GrillGrates AND the LoCo Griddle. 
Steak and Eggs
Ingredients:
Prime New York Strip

Two eggs
Directions:
Rub Crove Food Co. Beef Rub & Seasoning on all sides of your New York Strip.

Turn your LoCo Cookers 16 inch Griddle all the way up to "Sear Mode", so that we can cook this steak hot and fast. Set your GrillGrates on top to pre-heat as well.

Hold the steak with tongs on its side and sear off the fat cap on the steak. Do this on the griddle side, so that your eggs can cook in some of that fat.

Lay the steak on the GrillGrates and shut the lid.

After about 2 minutes, open the lids and rotate your steak 90 degrees over the grates to get the criss-cross grill marks.

Then after 2 minutes, flip your steak over and repeat, shutting the lid in between each step.

Crack two eggs onto the griddle side and season them with our all-purpose Crove Food Co. Beef Rub & Seasoning. Then flip your eggs until they get to your desired doneness. I like a runny yolk.

Remove the steak and eggs from the grill. 

Let the steak rest, then slice it up and season it one more time with our beef rub.

Serve and enjoy!
*Tip: Clean and re-season your griddle before storing. It's easier to do this while it's still hot.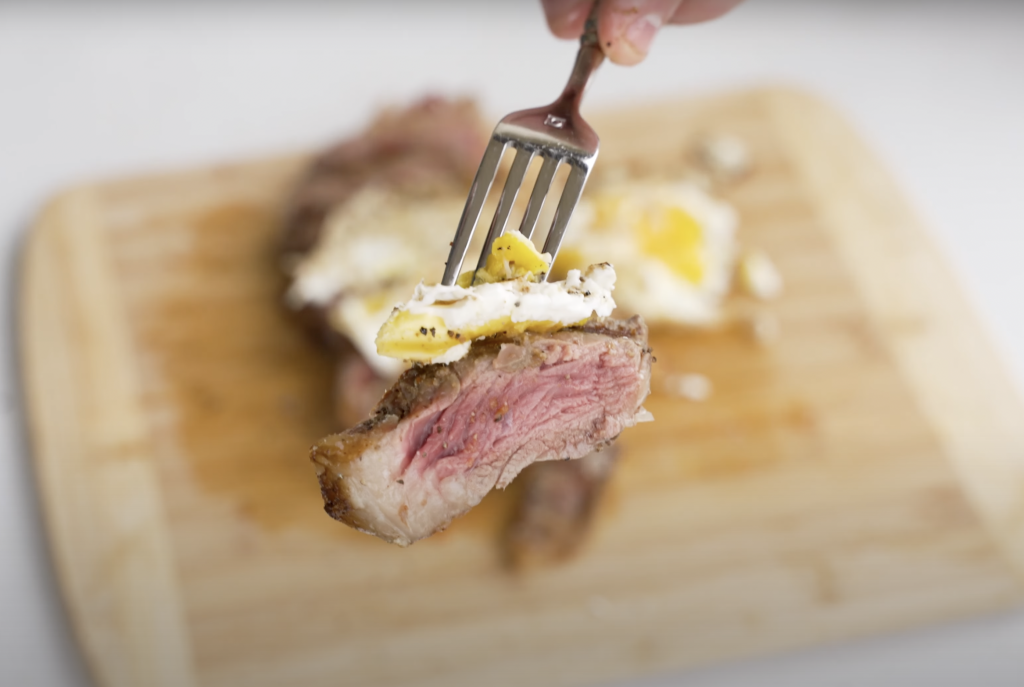 This steak cooked beautifully and was a perfect medium rare cook! I'll probably make the same meal next Saturday morning as well. Now that we are two cooks in, I can happily say that I'm very happy with how this griddle has performed. The thing that surprised me the most though was the very, very even temperature of the surface. It may have a smaller surface area, but every inch of it can be used which is very helpful whenever you only have 16 inches to work with. All in all, I will certainly keep this in my arsenal of cookers. I really wish I had this while we were on the Tailgate Tour. So many times I had to plug in a small electric burner that just didn't get the job done and this griddle would have been a perfect application. 
Don't forget to sign up for the giveaway here! Check out our new merch as well and please let us know what you would like to see us review next!